Dhamma Minders 5
September 21 @ 2:00 pm

-

6:00 pm

|

Recurring Event

(See all)

One event on 2019-06-29 at 2:00pm

One event on 2019-07-06 at 2:00pm

One event on 2019-07-20 at 2:00pm

One event on 2019-08-03 at 2:00pm

One event on 2019-08-24 at 2:00pm

One event on 2019-09-07 at 2:00pm

One event on 2019-09-21 at 2:00pm

One event on 2019-10-05 at 2:00pm

One event on 2019-10-19 at 2:00pm

RM100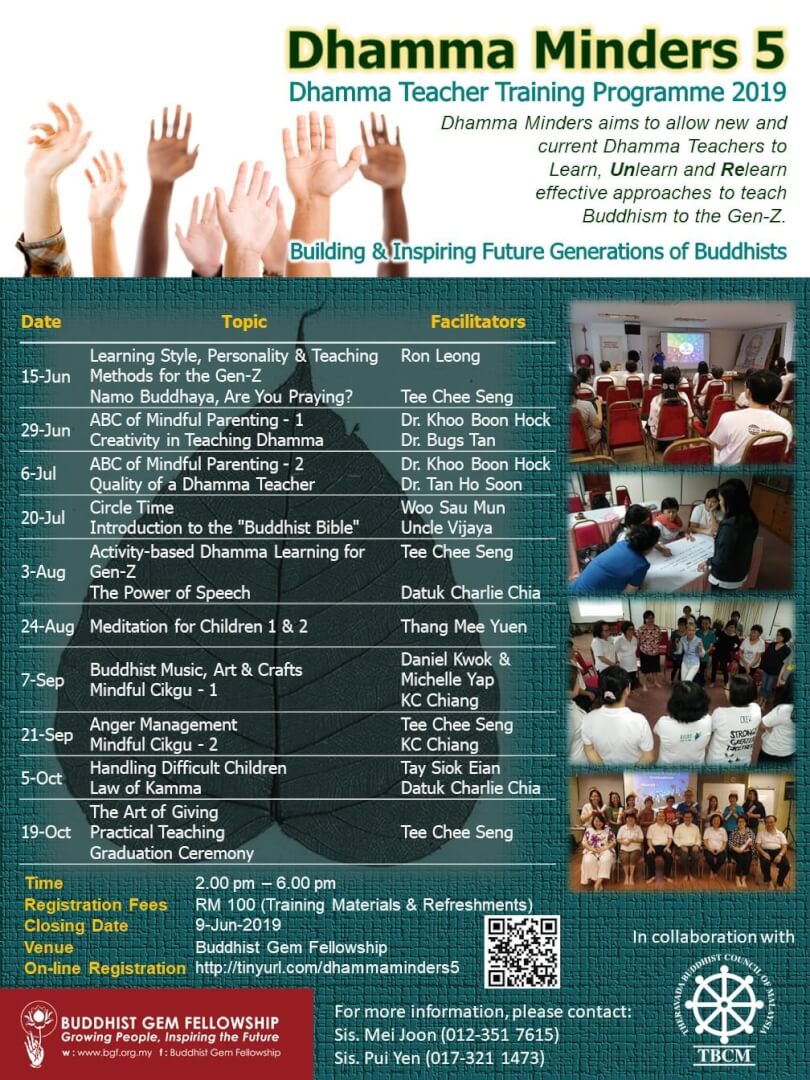 The Dhamma Minders 5 is now open for registration.
With the theme "Building & Inspiring Future Generations of Buddhists" we encourage all Dhamma school teachers or facilitators, especially new facilitator recruits to join and benefit from this 40-hours training course.
Be inspired by these Awesome Trainers:
Uncle Vijaya
Dr. Tan Ho Soon
Dr. Bugs Tan
Dr. Khoo Boon Hock
Ronnie Leong
K.C. Chiang
Woo Sau Mun
Tay Siok Eian
Thang Mee Yuen
Tee Chee Seng
Daniel Kwok
Michelle Yap
Program Schedule
Date
Topics
Facilitators
15 June
Learning Style, Personality and Teaching Methods for the Gen-Z
Namo Buddhaya, Are You Praying
Ron Leong
Tee Chee Seng
29 June
ABC of Mindful Parenting - 1
Creativity in Teaching Dhamma
Dr. Khoo Boon Hock
Dr. Bugs Tan

6 July
ABC of Mindful Parenting - 2
Quality of a Dhamma Teacher
Dr. Khoo Boon Hock
Dr. Tan Ho Soon
20 July
Circle Time
Introduction to the "Buddhist Bible"
Woo Sau Mun
Uncle Vijaya
3 August
Activity-based Dhamma Learning for Gen-Z
The Power of Speech
Tee Chee Seng
Datuk Charlie Chia
24 August
Meditation for Children 1 and 2
Thang Mee Yuen
7 September
Buddhist Music, Arts and Crafts
Mindful Cikgu - 1
Daniel Kwok and Michelle Yap
K.C. Chiang
21 September
Anger Management
Mindful Cikgu - 2
Tee Chee Seng
K.C. Chiang
5 October
Handling Difficult Children
Law of Kamma
Tay Siok Eian
Datuk Charlie Chia
19 October
The Art of Giving
Practical Teaching
Graduation Ceremony
Tee Chee Seng
Registration
kindly register online at https://tinyurl.com/DhammaMinders5

Questions?
For more info please contact sis. Mei Joon 012-3517615 or
Related Events