BGF Telephone Counseling Service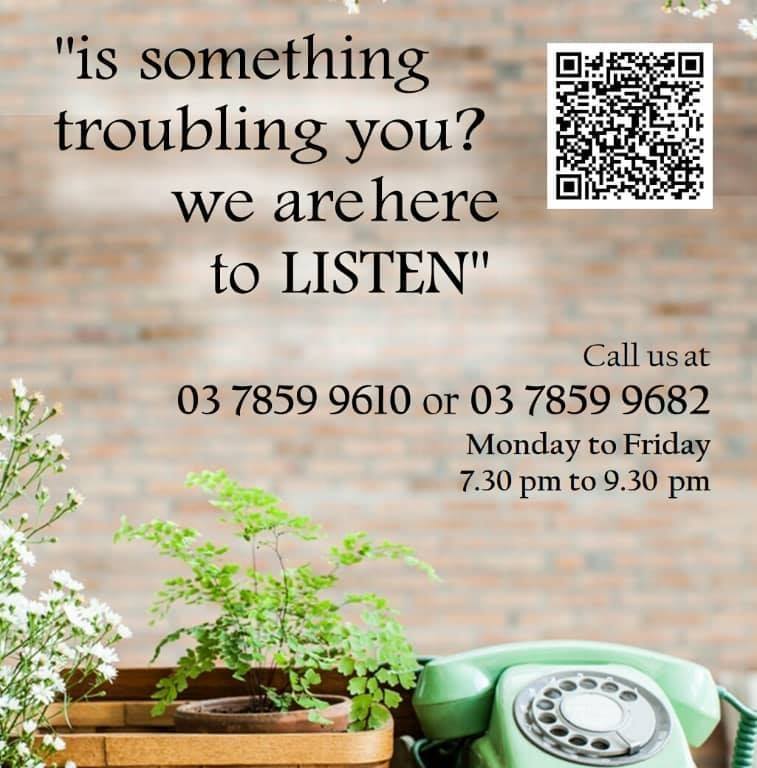 Time: Mondays to Fridays from 7.30pm – 9.30pm
Hotline numbers: +603-7859-9682 or +603-7859-9610

It is manned by volunteers who are trained para-counselors from the BGF Counseling Unit and have been in service since 1992. Please share this service with your family and friends who may need a listening ear as they face life's problems and challenges.
Metta Meditation
Time: Wednesdays : 8:30pm – 10:30pm

Guided by Datuk Seri Dr. Victor Wee, this meditation on Metta (loving kindness) to all sentient beings is excellent for mental cultivation and stress relief. Suitable for beginners as well as experienced meditators. Please be punctual in order not to disturb the sitting. For details, please contact Sis. Elaine Low at +60 13-352 7662.
Qi Gong Class
Time: Thursdays : 8:30pm – 10:30pm

You'll be guided personally, stage by stage. If you have any queries, kindly contact Bro. Chan Yin Hoong at +60 3-5519 2455 Ext. 211 or +60 12–328 6256.
Origin Point Therapy (OPT)
Time: Saturdays : 10.00am – 12.00pm

Free Origin Point Therapy is available on Saturday 10am to 12pm. Please wear soft cotton t-shirt and soft track bottom. Kindly bring along a bath and a hand towel for hygiene purpose. Contact Bro. Lai Kim Looi +60 12-2102519, Sis. Lee Wun Yin +60 19-2181259 or Bro. Steven Tan +60 12-2898133