BGF hosts a Dhamma talk in addition to various activities on two selected Sundays every month. See what's coming up here.
Upcoming Events
July 20 @ 9:30 am
-
6:00 pm
If you require a listening ear, please do give us a ring during the following times:
Time: Monday to Friday. 7.30pm – 9.30pm
Helpline numbers: +603-7859 9610 or +603-7859 9682
Time: Wednesdays: 8:30pm – 10:30pm
Time: Thursdays: 8:30pm – 10:30pm
Time: Saturdays: 10.00am – 12.00pm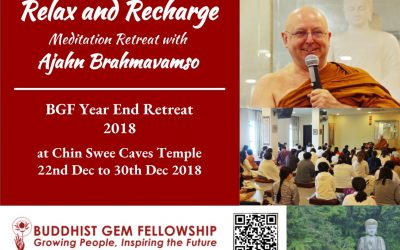 https://www.youtube.com/watch?v=r9192BLLfBA The transcript has been lightly edited for clarity. Many thanks to a anonymous volunteer (who shall remain unnamed) for this transcript. Sometimes you visualize a glass of water… see First this morning's talk – Samatha and...