Year End Retreat 2020 with Ajahn Brahm & Ajahn Brahmali
Buddhist Gem Fellowship (BGF Malaysia) and Bodhinyana (Singapore) are jointly organizing this virtual zoom retreat in place of the biannual 9-day BGF Year End Retreat by Ajahn Brahm. We have put up a daily schedule for participants to follow, with 3 daily zoom sessions by our teachers. Ajahn Brahm's retreats are easy going and caters to various levels of practitioners, from the beginners to the experienced. Experienced participants may choose to strictly adhere to the schedule, practice the precepts and maintain noble silence throughout the retreat.
The current Covid-19 pandemic has changed our lifestyle one way or another and we encourage you to take this opportunity to participate in this retreat which can be done in your home. Such an experience will open up your perspective on the practice in the various day to day conditions that you are in.
This is also an opportunity to raise funds for these two centres and also towards Bodhinyana Monks Expense account. BSWA is building 2 new monasteries in Western Australia, one in Roleystone and one in Albany.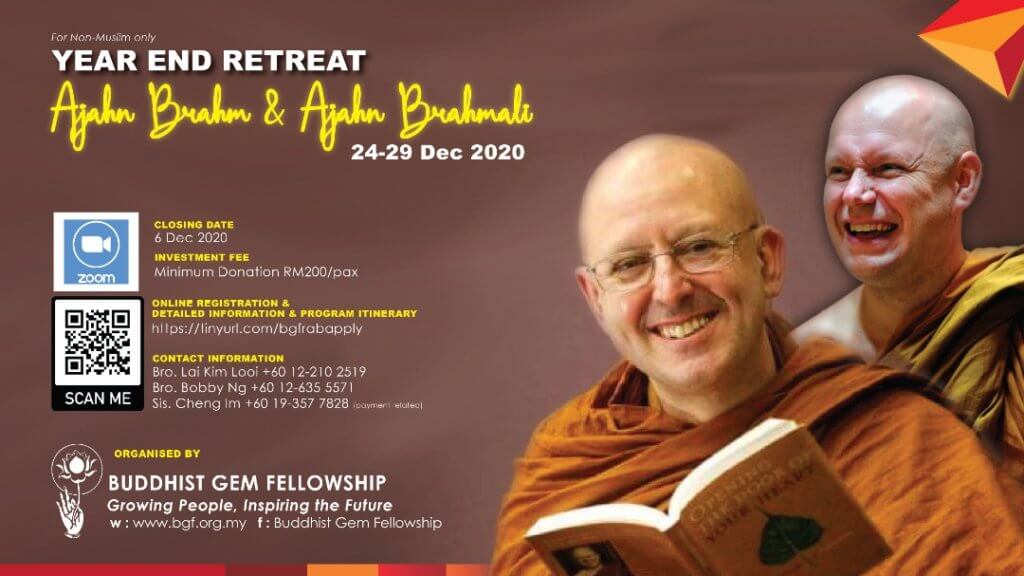 Speaker
Ajahn Brahm

Abbot of Bodhinyana Monastery, in Serpentine, Western Australia

Phra Visuddhisamvarathera AM, known as Ajahn Brahmavaṃso, or simply Ajahn Brahm (born Peter Betts on 7 August 1951), is a British-Australian Theravada Buddhist monk.

Currently Ajahn Brahm is the Abbot of Bodhinyana Monastery, in Serpentine, Western Australia, Spiritual Adviser to the Buddhist Society of Victoria, Spiritual Adviser to the Buddhist Society of South Australia, Spiritual Patron of the Buddhist Fellowship in Singapore, Patron of the Brahm Centre in Singapore, Spiritual Adviser to the Anukampa Bhikkhuni Project in the UK, and the Spiritual Director of the Buddhist Society of Western Australia (BSWA). He returned to the office on 22 April 2018 after briefly resigning in March, following a contentious vote by members of the BSWA during their annual general meeting.
Next Event
Date

Sep 24 2023

Time

9:30 am - 11:30 am