With deep respect and a heavy heart, we notify members of the passing away of Sayadaw Nyanapurnik Mahathera, the Sanghanayaka of Nepal on 3 July 2020 at 4.35 am in Sumeru Hospital, Nepal.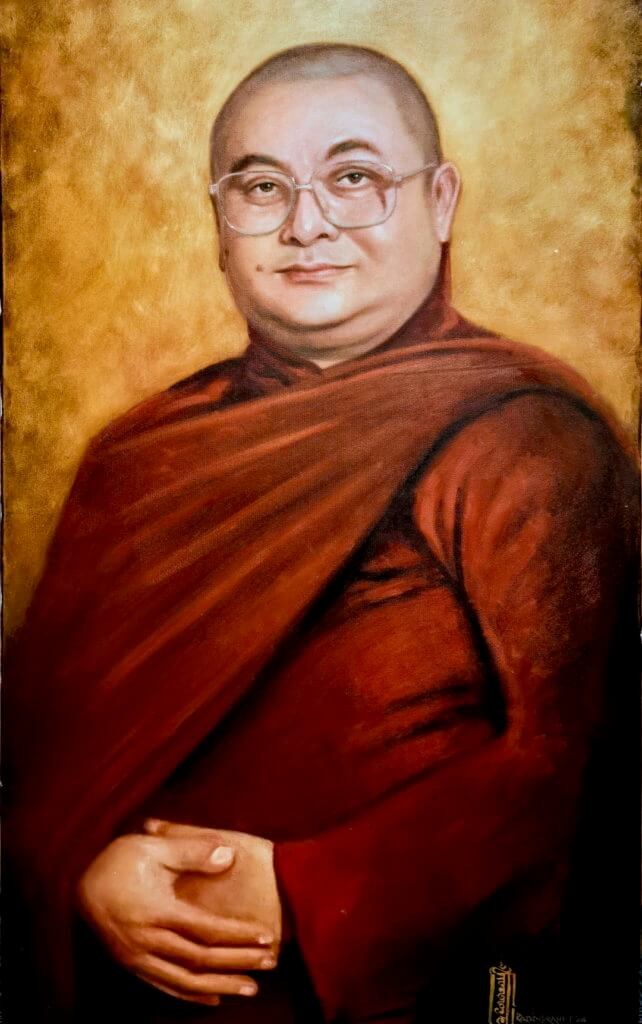 Sayadaw Nyanapurnik is a much-loved and illustrious teacher in meditation and Dhamma. He had been a frequent visitor to Malaysia to teach Dhamma and conduct retreats. At BGF, we had the good fortune to invite him for Dhamma talks and give us blessings. The BGF Centre resounds daily with Sayadaw's melodious and soothing chanting of the Pali Parittas in the morning and the evening.
Sayadaw Nyanapurnik Mahathera comes from the Sakyan clan and was born on 21 November 1939 in Tansen, Palpa about 90 kilometres north of the Buddha's birthplace, Lumbini. He was ordained at 16 years old and received his training in Buddhist studies in Nepal and Myanmar. For his scholastic achievements, he received "Sasanadhaja Dhammachariya", a high order of Buddhist monastic education of Myanmar in 1963. Besides Dhamma education, he completed various levels of formal education including School Leaving Certificate, Bachelor of Arts, Master of Arts in Culture and History from Tribhuvan University, Nepal, and Diploma in Sanskrit from Benaras Sanskrit University, India. In 2001, he was awarded a high order title Agga Maha Saddhammajotikadhaja from the Government of Union of Myanmar for his outstanding work in Dhamma propagation in Nepal and internationally.
He speaks 7 languages and closely associated with Mahasi Sayadaw and Sayadaw U Pandita, serving as their interpreter on many occasions. Sayadaw is an author and translator of about 50 books on Buddhism, both in Nepali and Nepal Bhasha languages. He was also one of the members of the publication team of the Pali Burmese World Dictionary, Burma (1964-66). He travelled extensively around the world as a meditation instructor. He served as the Assistant Chief of West Midlands Buddhist Centre in Birmingham from 1979 to 1982. In 1982, he established the Buddha Vihara, a Buddhist monastery at Nashville in Tennessee, USA. He has been working as a missionary monk in different countries such as Myanmar, Thailand, Malaysia and Singapore along with some European countries and the US.
For half a century, Sayadaw Nyanapurnik had actively participated in the growth and development of Buddhism in Nepal, including holding the position of General Secretary of All Nepal Bhikkhu Association and an active member of the Lumbini Development Trust. He was the Founder, Director and Vice-Rector of the Nepal Buddha Pariyatti Shiksha at Vishwa Shanti Vihara, Kathmandu for the training of a new generation of monks.
Buddhist Gem Fellowship offers our condolences to the monastic and Buddhist community of Nepal and the devotees of Visha Shanti vihara on Sayadaw's passing away. Sayadaw's absence will be sorely missed by all of us at Buddhist Gem Fellowship. We encourage our members and friends to dedicate merits from our Dhamma practice to Sayadaw Nyanapurnik with the wish that may he attain the bliss of Nibbana.