by Sis. Wong Chung Heong
Highlights of recent and future activities of the BGFCU are as follows.
27th BGF Counseling Course Level 2
The MCO (now in the recovery phase) is still with us but life must go on even as we adjust to the new normal. BGFCU has thus decided to proceed with the remaining lessons for Level 2 of the 27th Counseling Course using online means.
BGFCU kick-started the 1st online session of the course on 7 June 2020. The topic, 'Befriending Adolescents', was delivered in a very interactive manner by Bro. Pheh Kai Shuen, the Head of Program and Clinical Psychology and Counseling at University Tunku Abdul Rahman. The speaker has developed and piloted a four-step suicide prevention gatekeeper training program for Malaysia, known as C.A.R.E. This is very relevant with respect to mental health among adolescents and the increasing trend of suicidal behaviors in recent years.
Sister Daphne has shared her experience as a virtual host for this session here.
The next online session on 14 June entitled 'Connecting with Children' was presented by Sis. Lee Kuan Shin, Consultant Clinical Psychologist from Pantai Hospital KL. Sis. Kuan Shin gave out a pre-workshop questionnaire to the participants a day ahead for them to reflect on their own parenting styles. She subsequently shared with them various parenting styles, and the fact that parents do not stick to the same style all the time but tend to switch from one category to another. A question on why children misbehave was discussed, allowing participants to look at the problem from a child's perspective.
The last session on 21 June was on 'Coping with Loss and Grief' by Sis. Lee Voon Yee, a Clinical Psychologist who has been practicing at UKM Medical Centre since 2012, and currently serving as a visiting Psychologist at Dr. Yeoh and Dr. Hazli's Specialist Clinic. Participants were requested to complete a questionnaire on the 'Myth of Grief' before the session to create some awareness about grief and loss. She also touched on physical and emotional responses to grief and loss, and shared with participants some healthy coping strategies, self-care and basic counseling skills for supporting others.
The sessions were well-attended. Each session was hosted by BGFCU Exco members who kept things running smoothly with lots of interaction between the speakers and participants.
The 2020 Para-Counselors Training (PCT)
BGFCU also decided to go ahead with the 2020 PCT using online means. We managed to get the commitment of 4 Trainers – Registered Counselors Sis. Siew Yin Heng, Sis. Chen Ke Xian, Bro. Lee Chee Wei and Bro. Lee Suan Seng – to conduct the training online. They were assisted by 3 Facilitators – Sis. Lily Chua, Sis. Wong Chung Heong and Bro. Chia Kim Wee. Six participants were accepted for the training after a panel interview. The first PCT session started on 18 May. To date, 2 theory and 2 role-play sessions have been completed. The trainers are happy with the participants' progress so far.
28th Counseling Workshop
The workshop originally scheduled for 19 July 2020 has been postponed to a later date pending further discussion with identified speakers and the BGFCU training subcommittee.
Continuing Training for Para-Counselors
Here again, technology has come to our rescue. We have managed to conduct a number of online sessions using software apps Zoom and Google Meet.
The scheduled training sessions for Para-Counselors (PCs) started with Sis. Siew Yin Heng's revision classes on Domestic Violence (2 May), Ethics (9 May), Informed Consent (16 May), and Ethics and Informed Consent (23 and 30 May)). The upcoming training for PCs will be Sis. Yin Heng's revision session on Person-Centred Therapy, and Sis. Sook Ping's 2nd session of Group supervision on 4 July which will include a case-management sharing by our PCs on job losses and unemployment issues.
Sister Yeoh Phaik Sim shared here experience during the session here.
A free weekly Case Management Consultation & Self-care Support (CMCSS) online group was initiated by SolsHealth during the Covid-19 pandemic. The ongoing Monday sessions are facilitated by Sis. Low Miyen, a senior Clinical Psychologist. The sessions are open to mental health professionals, social workers, grassroots/community outreach workers, etc. who work or volunteer their services at various non-profit organizations. A big thank you to SolsHealth and Sis. Miyen for extending the invitation to our PCs. A few of our PCs have been joining the sessions regularly to learn and share the experience with others.
BGFCU Online Telephone Counseling Service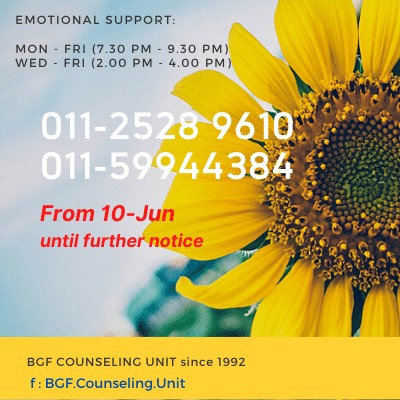 The number of calls are low on our online platform established in April 2020. Callers are still calling in to our land-lines despite the recorded voice messages informing them about our online service. A mobile line (011-59944384) with call forwarding function was introduced on 4 May, and the 2nd mobile line (011-25289610) started on 12 June. We are glad that the number of calls are picking up again after the introduction of the 2 mobile lines.
Our operating hours remain as follows:
Mondays to Fridays 7.30pm to 9.30pm and
Wednesdays to Fridays 2.00pm to 4.00pm.
We are on duty as usual during Public Holidays.